Dr. Jan
Orthodontist
Meet Dr. Jan - Dr. Jan is originally from Hilo, Hawaii. She attended dental school at the University of the Pacific in San Francisco, California and graduated with honors and induction into the Tao Kappa Omega, and Omega Kappa Upsilon dental honors societies. She was accepted to do her residency at the University of Colorado in Denver.

Upon completing her residency, she went back to Hilo to open her first practice. She soon realized how much she missed the Colorado mountains and purchased Yamashiro Orthodontics in Boulder, continuing her career in private practice. She is part of an elite group of SPEAR trained dentists and specialists, in Boulder, who believe in comprehensive dental care and long term excellence. She takes pride in creating great smiles in a beautiful community. In her spare time you can find Dr. Jan rock climbing, making costumes, or finding creative and artistic ways to organize.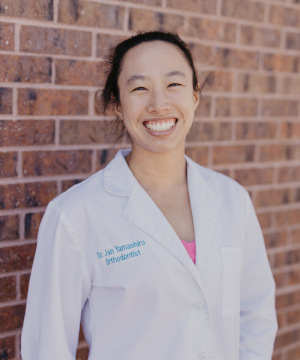 Here at Yamashiro Orthodontics, we do our best to offer state of the art treatments in a warm comforting environment. We have digital x-rays that significantly reduce the amount of radiation one is exposed to during imaging, and are much more comfortable than the ones that normally go inside your mouth.[>
The Yamashiro Orthodontics office is about 80% digital which is friendly to the environment and improves the continuity of care and communication between us and your different medical and dental providers. We have free Wi-Fi for your use in our lobby/waiting room as well as power strips for charged your devices as needed. There are also refreshments, as well as a nice tooth brushing area for you to use once you are done with your afternoon snacks.